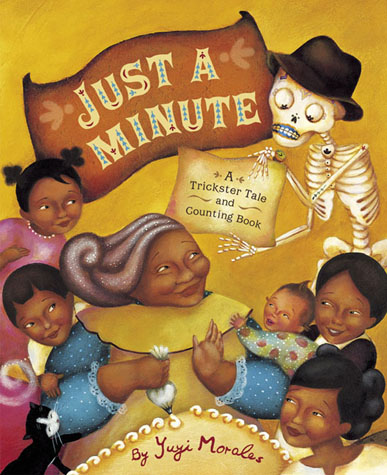 Title: Just a Minute: A Trickster Tale and Counting Book | Author: Yuyi Morales  | Illustrator: Maria de Lourdes Morales O'Meara (Yuyi Morales)  | Publisher: Chronicle Books LLC  | Date of Publication: 2003  | ISBN: 978-0-8118-3758-3  |  Number of pages: 36 | Grade Level: Pre-School – 2 | Literary Trend: Spotlight on Diversity 
Morales, Y. (2003). Just a Minute: A Trickster Tale and Counting Book. San Francisco, CA: Chronicle Books LLC.
        Yuyi Morales brings to vibrant life the dreadful concept of Death knocking at your door in this delightful counting book.  Not since the classic film The Seventh Seal has an artist been able to get comfortable with the concept of death at this level of humor and beautiful imagery.  Of course, Morales is writing for children, in this instant classic picture book, and the joke is on poor Señor Calavera, who simply wants to take the sweet Grandma Beetle to the afterlife.  But not so quick, as sweet as she may be, she is also a grand trickster, perhaps the grandest, and her charm is no match for the polite Calavera.  From one instance to the next, Grandma counts her way out of potential doom as she prepares a big birthday feast.
        Illustrated by Morales, the picture book displays a panoramic detail of the goings on inside Grandma Beetle's house and the rich purple and red color palette that adorn Grandma Beetle's house are strikingly reminiscent of those found in actual Mexican homes.  Similarly, the just enough decoration style in grandma's house gives plenty of room for the action in the illustrations to reverberate and come to life as grandma mercilessly slices through gigantic pieces of fruits with a machete or puts Señor Calavera to work in the kitchen at the mixing bowl.  The text takes a subtle place in the book, both easy to read but not imposing, and the book can be read without text for the youngest of readers and improvised along the way.
        Although the book never mentions the concept of death, its acknowledgement of temporary existence is evident.  Young readers may ask, "Where is he taking her?" and parents should be prepared to answer, but the beauty Morales's indirect approach is that any answer can work, "he is the bus driver taking her to the dentist, perhaps."  Morales takes a subtle approach as well in introducing the numbers 1 to 10 in English and Spanish and repeated readings will likely add a new skill set to a young reader's vocabulary.
        Booklist attaches onto the sense of glory and wonderment of life that Just a Minute provides to old and young readers alike, and adds that Grandma's attempt to postpone her fate will reverberate especially with adults who take the small things for granted.  Publishers Weekly explains that the strong visual elements of the book are deeply tied to art history;  "Her deep, glowing pastels and stylized human characterizations beautifully conjure the traditions of Latin American muralists."  Glowing indeed, both reviews mirror my own sentiments and it is impossible for me to ignore how this book helped me relive some of my favorite moments of big family birthday parties when I was a child.